(TheNewswire)
Vancouver, British Columbia - TheNewswire - August 4, 2023 - Atco Mining Inc. (the "Company" or "Atco") (CSE:ATCM ) ( OTC:ATMGF ) ( Frankfurt:QP9) is pleased to announce that along with its contracted consultant partners, RESPEC Consulting Inc. ("RESPEC"), it completed a 2D seismic interpretation on the Flat Bay Salt Project (the "Project"), located in the St. Georges Bay Basin in Southwestern Newfoundland, locating at least one salt structure prospective for halite exploration, the mineral form of sodium chloride or road salt. The 2D seismic data shows the potential presence of a salt structure within the project boundary. The preliminary seismic data interpretation findings align with gravity lows and are potentially indicative of salt in the subsurface.
RESPEC is currently combining the seismic and gravity data to create a 3D geological model of the salt structure. The 3D model will be used for the placement of future core well locations and will define the dimensions of the salt structure.
Jai Duhan, Subsurface Energy Storage Consultant at RESPEC, comments, "The 2D seismic and gravity data show the potential presence of salt structure at the Flat Bay Project Site, and RESPEC is looking forward to assisting Atco in defining the appropriate next steps in its exploration program."
Etienne Moshevich, Chief Executive Officer of Atco, comments. "These preliminary results are very positive and I'm eager to move ahead with our next steps. With further data compilation and a 3D geological model to follow from RESPEC, we will be able to further define the potential of a salt dome. We look forward to receiving additional reporting and updates within the coming weeks as we look to prepare our next steps in our exploration efforts."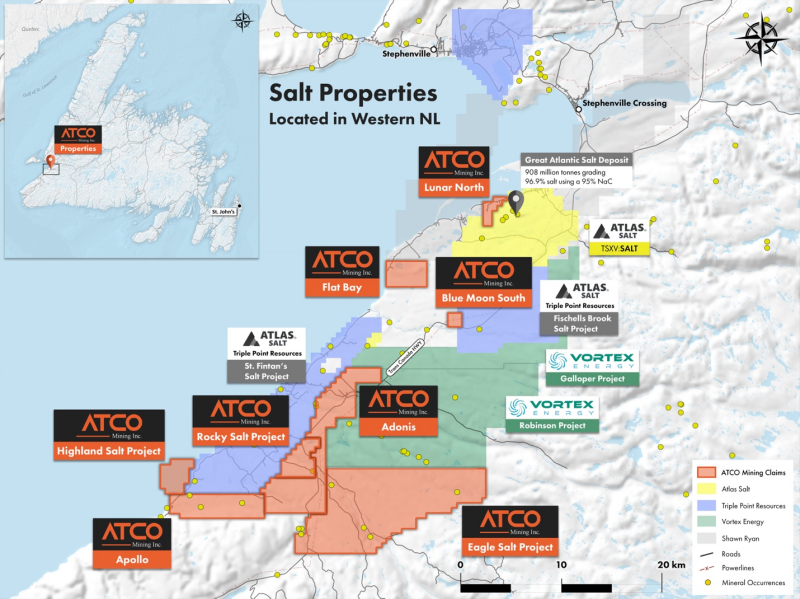 Click Image To View Full Size
About RESPEC Consulting
Respec's experts have evaluated over 1,000 caverns in nearly every major cavern storage region in the world. Its extensive history underground has helped them pioneer in-house specialty software and rock lab testing that focuses on analyzing solution-mined and conventionally mined caverns. Respec has the world's largest rock laboratory dedicated to the underground storage industry and has experience with some of the largest scale projects in North America, including Mitsubishi Power's Advanced Clean energy storage project in Utah, the Atco Heartland Energy Centre in Alberta and seven other hydrogen storage projects worldwide.
Qualified Person
The technical content of this news release has been reviewed and approved by Tabetha Stirrett (P.Geo) , who is a Qualified Person as defined by NI 43-101.
About Atco Mining (CSE: ATCM):
Atco is a junior exploration mining company focused on exploring for green energy metals throughout Canada. Atco is also exploring for sulphide-rich VHMS deposits in Saskatchewan as well as salt opportunities in Western Newfoundland. Investors are encouraged to visit the company's website here: www.atcomining.com
For further information contact:
Atco Mining Inc.
Email: info@atcomining.com
Telephone: (604) 681-0084
Neither the Canadian Securities Exchange nor its Regulation Services Provider (as that term is defined in the policies of the Canadian Securities Exchange) accepts responsibility for the adequacy or accuracy of this news release. The Canadian Securities Exchange has not in any way approved nor disapproved the contents of this news release.
FORWARD LOOKING STATEMENTS:
Certain information in this news release may contain forward-looking statements that involve substantial known and unknown risks and uncertainties. Forward-looking statements are often identified by terms such as "will", "may", "should", "anticipate", "expects" and similar expressions. All statements other than statements of historical fact included in this news release are forward-looking statements that involve risks and uncertainties. There can be no assurance that such statements will prove to be accurate and actual results and future events could differ materially from those anticipated in such statements. Important factors that could cause actual results to differ materially from the Company's expectations are detailed from time to time in the filings made by the Company with securities regulations. The reader is cautioned that assumptions used in the preparation of any forward-looking information may prove to be incorrect. Events or circumstances may cause actual results to differ materially from those predicted, as a result of numerous known and unknown risks, uncertainties, and other factors, many of which are beyond the control of the Company. The reader is cautioned not to place undue reliance on any forward-looking information. Such information, although considered reasonable by management at the time of preparation, may prove to be incorrect and actual results may differ materially from those anticipated. Forward-looking statements contained in this news release are expressly qualified by this cautionary statement. The forward-looking statements contained in this news release are made as of the date of this news release and the Company disclaims any intention or obligation to update or revise such information, except as required by applicable law.
Copyright (c) 2023 TheNewswire - All rights reserved.