Winnipeg, Manitoba--(Newsfile Corp. - September 20, 2023) - Following its recent discovery of a spodumene-bearing pegmatite zone at its 206 sq. km Ear Falls Project in Northwest Ontario and a three-day site visit of several of the company's properties by its senior technical team, management of Beyond Lithium Inc. (CSE: BY) (OTCQB: BYDMF) (the "Company" or "Beyond Lithium") will be hosting an investors update call on Thursday September 21, 2023 at 5:00 pm EDT.
In attendance for Beyond Lithium will be Allan Frame, President & CEO, Lawrence Tsang, VP Exploration and Alain Lambert, Co-Founder and Capital Markets Advisor.
Format: Management presentation (20 to 25 minutes) followed by a question period (5 to 10 minutes). Please email your questions before or during the meeting to jason.frame@beyondlithium.ca.
Zoom Meeting Link: https://us06web.zoom.us/webinar/register/WN_ejh56LtNTCekSBMhjWHtmw
Main topics:
Presentation of the Ear Falls Project spodumene discovery
Overview of the September 16 to 19 site visit to Northwest Ontario by Beyond's senior technical team and management
Exploration and corporate plans for rest of 2023 and 2024
The investor update will be posted on the Company's website immediately following the meeting.
Picture 1: President and CEO Al Frame with VP Exploration Lawrence Tsang, Senior Field Geologist Paul Baxter and Senior Geologist Graeme Evans, Ear Falls Project September 17, 2023

To view an enhanced version of Picture 1, please visit:
https://images.newsfilecorp.com/files/8620/181302_90df8d320446cb13_004full.jpg
Picture 2: Large Spodumene Crystal, Ears Falls Project, September 17, 2023

To view an enhanced version of Picture 2, please visit:
https://images.newsfilecorp.com/files/8620/181302_90df8d320446cb13_005full.jpg
Picture 3: Senior Technical Team with Jace Angell (Last Resort Resources) and Jason Leblanc (Bounty Gold Corp.), Northwest Ontario, September 19, 2023

To view an enhanced version of Picture 3, please visit:
https://images.newsfilecorp.com/files/8620/181302_90df8d320446cb13_006full.jpg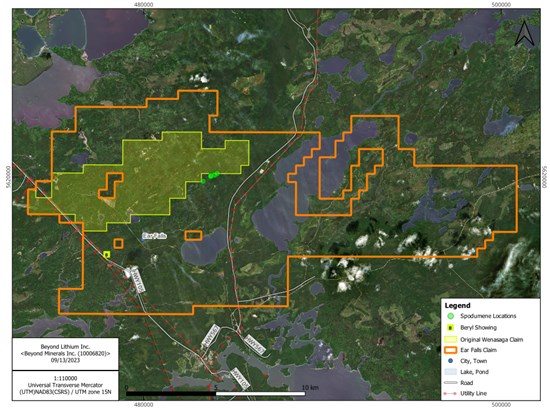 Figure 1. Ear Falls Project Expanded Claims Map

To view an enhanced version of Figure 1, please visit:
https://images.newsfilecorp.com/files/8620/181302_90df8d320446cb13_007full.jpg
Figure 2. Overview Exploration Trend at the Ear Falls Project Showing the 3 km trend of Spodumene/Beryl Zone (black arrow) and a 13 km long Metasedimentary-Granite Structural Corridor (red polygon outline) and a Potential Subparallel Structure (blue polygon outline)

To view an enhanced version of Figure 2, please visit:
https://images.newsfilecorp.com/files/8620/181302_90df8d320446cb13_008full.jpg
Figure 3. Brand New Exploration Target in the Eastern Area of the Expanded Ear Falls Project with >1% A/CNK and Elevated Lake Sediment in Lithium

To view an enhanced version of Figure 3, please visit:
https://images.newsfilecorp.com/files/8620/181302_90df8d320446cb13_009full.jpg
Quality Assurance/Quality Control
All collected rock samples were put in sturdy plastic bags, tagged, and sealed at site. Sample bags were then put in rice bags and kept securely before being sent by road transport or delivered by the crew supervisor to SGS's preparation facility in Red Lake or Sudbury, Ontario, for sample preparation. Pulps are analyzed at the SGS facility in Burnaby, BC. All samples are analyzed with Four-Acid Digestion/Combined ICP-AES/MS package (49 elements). Samples with lithium overlimit (>10,000 ppm Li) are analyzed with another Four-Acid Digestion with higher detection limit of up to 10% Li. Batches of samples with overlimit >10,000 ppm or 1% Li are analyzed with Sodium Peroxide Fusion for validation. The QA/QC protocol included the insertion and monitoring of appropriate reference materials, in this case high concentration and low concentration certified OREAS and CDN lithium standards to validate the accuracy and precision of the assay results.
Qualified Person and Third-Party Data
The scientific and technical information in this news release has been reviewed and approved by Lawrence Tsang, P.Geo., VP Exploration of the Company. Lawrence Tsang is a "qualified person" as defined in National Instrument 43-101 - Standards of Disclosure for Mineral Projects.
About Beyond Lithium Inc.
Beyond Lithium Inc. is the largest greenfield lithium exploration player in Ontario with 64 high potential greenfield lithium properties totalling over 150,000 hectares. The Company has adopted the project generator business model to maximize funds available for exploration projects, while minimizing shareholder dilution. Beyond Lithium is advancing certain of its projects with its exploration team and will seek to option other properties to joint venture partners. Partnering on various projects will provide a source of non-dilutive working capital, partner-funded exploration, and long-term residual exposure to exploration success.
Beyond Lithium currently has 28,259,658 common shares outstanding.
Please follow @BeyondLithium on Twitter, Facebook, LinkedIn, Instagram and YouTube.
For more information, please refer to the Company's website at www.beyondLithium.ca.
CAUTIONARY STATEMENT REGARDING FORWARD-LOOKING INFORMATION: This news release includes certain "forward-looking information" within the meaning of applicable Canadian securities legislation. All statements, other than statements of historical fact, included herein including, without limitation, statements regarding future capital expenditures, anticipated content, commencement, and cost of exploration programs in respect of the Company's projects and mineral properties, anticipated exploration program results from exploration activities, resources and/or reserves on the Company's projects and mineral properties, and the anticipated business plans and timing of future activities of the Company, are forward-looking information. Although the Company believes that such statements are reasonable, it can give no assurance that such expectations will prove to be correct. Often, but not always, forward-looking information can be identified by words such as "pro forma", "plans", "expects", "will", "may", "should", "budget", "scheduled", "estimates", "forecasts", "intends", "anticipates", "believes", "potential" or variations of such words including negative variations thereof, and phrases that refer to certain actions, events or results that may, could, would, might or will occur or be taken or achieved. In stating the forward-looking information in this news release, the Company has applied several material assumptions, including without limitation, that market fundamentals will result in sustained precious and base metals demand and prices, the receipt of any necessary permits, licenses and regulatory approvals in connection with the future exploration of the Company's properties, the availability of financing on suitable terms, and the Company's ability to comply with environmental, health and safety laws.
Forward-looking information involves known and unknown risks, uncertainties and other factors which may cause the actual results, performance or achievements of the Company to differ materially from any future results, performance or achievements expressed or implied by the statements of forward-looking information. Such risks and other factors include, among others, statements as to the anticipated business plans and timing of future activities of the Company, the proposed expenditures for exploration work on its properties, the ability of the Company to obtain sufficient financing to fund its business activities and plans, delays in obtaining governmental and regulatory approvals (including of the Canadian Securities Exchange), permits or financing, changes in laws, regulations and policies affecting mining operations, risks relating to epidemics or pandemics such as COVID-19, the Company's limited operating history, currency fluctuations, title disputes or claims, environmental issues and liabilities, as well as those factors discussed under the heading "Risk Factors" in the Company's prospectus dated February 23, 2022 and other filings of the Company with the Canadian securities regulatory authorities, copies of which can be found under the Company's profile on the SEDAR website at www.sedar.com.
Readers are cautioned not to place undue reliance on forward-looking information. The Company undertakes no obligation to update any of the forward-looking information in this news release except as otherwise required by law.
For further information, please contact:
Allan Frame
President and CEO
Tel: 403-470-8450
Email: allan.frame@beyondLithium.ca
Jason Frame
Manager of Communications
Tel: 587-225-2599
Email: jason.frame@beyondLithium.ca
To view the source version of this press release, please visit https://www.newsfilecorp.com/release/181302