Vancouver, British Columbia--(Newsfile Corp. - June 19, 2023) - Hertz Lithium Inc. (CSE: HZ) (OTC Pink: HZLIF) (FSE: QE2) (the "Company") a Company focused on lithium exploration and novel extraction technologies, is pleased to announce that it's submission of Form 211 to FINRA has cleared allowing United States investors to trade the common shares of the Company under the symbol "HZLIF" on the OTC PINK.
The Company further advises that it has submitted its application to up-list its common shares for trading on the OTCQB exchange operated by OTC Markets Group Inc. Designed for developing and entrepreneurial companies in the United States and abroad, companies must be current in their financial reporting and undergo an annual verification and management certification process, including meeting a minimum bid price and other financial conditions. With more compliance and quality standards, the OTCQB provides investors improved visibility to enhance trading decisions. The OTCQB is recognized by the United States Securities and Exchange Commission as an established public market providing public information for analysis and value of securities.
Additionally, the Company has submitted its application for DTC Eligibility which electronically clears and settles all trades creating an easier and more efficient trading experience for investors.
Attending 15th Annual Fastmarkets Lithium Conference, Las Vegas June 20-22, 2023
Chief Executive Officer Kal Malhi will attend the 15th Annual Fastmarkets Lithium Supply and Battery Raw Materials Americas annual event (the "Fastmarkets Conference") from June 20 to June 22, 2023 in Las Vegas. The Fastmarkets Conference is one of the largest global forums focused on lithium and battery raw materials. During the conference, Mr. Malhi is scheduled to meet with a variety of industry participants, particularly within the lithium global supply chain.
Attendees wishing to meet with the Company are invited to connect at Email: kal@bullruncapital.ca.
Update on Lucky Mica Project
The Company is also pleased to provide an update on the field exploration activities that commenced on May 2, 2023, at its Lucky Mica Property (the "Property") in Maricopa County in Arizona, USA. To date the field team has completed general prospecting, mapping and sampling of pegmatite outcrops and structural mapping on the property. The team has identified an abundance of 'new' previously unmapped and sampled pegmatites in three clusters as shown in Figure 1 below. These pegmatites are described to occur as 2-6m wide bodies potentially up to 50-100m long and appear to occur conformant with the local metamorphic foliation and may vary in dip from shallow to steeply dipping. While quartz and feldspar are known to be more resistant to erosion and weathering, the identified pegmatites appear to be within weathered amphibolite, also known as greenstone, in the area (See Figure 2). This is consistent with the lepidolite and spodumene weathered piles identified in the Lucky Mica region on the property which have returned results up to 7.5% Li2O.
A total of approximately 250 samples have been collected from these clusters and an additional 100 will be collected on the property before the team leaves the field next week. All samples with be delivered to SGS Laboratories in Phoenix, AZ for analysis with results expected in 6-8 weeks.

Figure 1: Newly mapped pegmatic showing predominantly E-V striking (50-100m long, approx. 5m wide) and typically comprising a dominant quartz + feldspar + mica mineralogy with few Li-bearing minerals identified.

To view an enhanced version of this graphic, please visit:
https://images.newsfilecorp.com/files/9656/170512_e2c2cd7b04aa8955_002full.jpg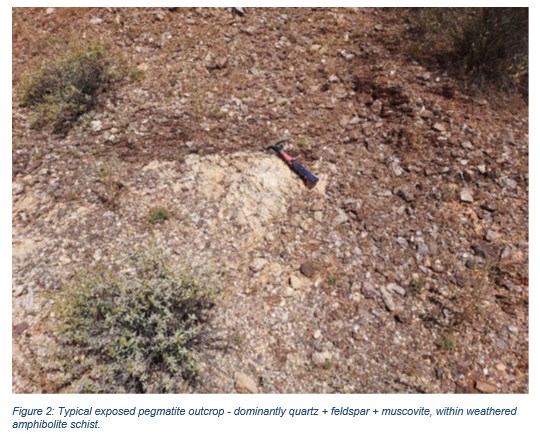 Figure 2: Typical exposed pegmatite outcrop - dominantly quartz + feldspar + muscovite, within weathered amphibolite schist.

To view an enhanced version of this graphic, please visit:
https://images.newsfilecorp.com/files/9656/170512_e2c2cd7b04aa8955_003full.jpg.
Ongoing lithostructrual interpretation is expected to proceed within the next 6-8 weeks with delivery of the results to coincide with the returned analytical results of the approximate 350 samples collected in May. This data acquisition and processing of remote sensing on the property will be completed by Axiom prior to the follow up trenching phase this fall. The results of these various exploration methodologies will be compiled and utilized in the strategic development of the trenching program both in the known Lucky Mica area as well as within the regions of the 3 newly discovered pegmatite clusters. Additional prospecting and sampling will be conducted within priority zones to further determine a broader geochemical understanding of the property as a whole.
For more information about the Property and the recommended work program, see the technical report prepared by Lee R. Beasley, CPG, MSc, titled "NI 43-101 Technical Report, Lucky Mica Project, Arizona," with an effective date of November 8, 2022, as filed on the Company's profile on www.sedar.com. https://hertzlithium.com/project/.
About Hertz Lithium Inc.
Hertz Lithium Inc. is a British Columbia based mineral exploration company primarily engaged in the acquisition and exploration of mineral properties. The Company currently has one material mineral property, the Lucky Mica Project, located in the Arizona Pegmatite Belt in the Maricopa County of Arizona, USA, which is in the exploration stage. The Company is also working with Penn State University's College of Earth and Mineral Science department in the development of a novel lithium extraction technology. https://hertzlithium.com.
For further information, please contact Mr. Kal Malhi or view the Company's filings at www.sedar.com.
On Behalf of the Board of Directors
Kal Malhi
Chief Executive Officer and Director
Phone: 604-805-4602
Email: kal@bullruncapital.ca
https://hertzlithium.com
The Canadian Securities Exchange has not in any way passed upon the merits of the matters referenced herein and has neither approved nor disapproved the contents of this news release.
Cautionary Statement Regarding "Forward-Looking" Information
This news release includes certain statements that may be deemed "forward-looking statements." All statements in this new release, other than statements of historical facts, that address events or developments that the Company expects to occur, are forward-looking statements. Forward-looking statements are statements that are not historical facts and are generally, but not always, identified by the words "expects", "plans", "anticipates", "believes", "intends", "estimates", "projects", "potential" and similar expressions, or that events or conditions "will", "would", "may", "could" or "should" occur. Although the Company believes the expectations expressed in such forward-looking statements are based on reasonable assumptions, such statements are not guarantees of future performance and actual results may differ materially from those in the forward-looking statements. Factors that could cause the actual results to differ materially from those in forward-looking statements include market prices, continued availability of capital and financing, and general economic, market or business conditions. Investors are cautioned that any such statements are not guarantees of future performance and actual results or developments may differ materially from those projected in the forward-looking statements. Forward-looking statements are based on the beliefs, estimates and opinions of the Company's management on the date the statements are made. Except as required by applicable securities laws, the Company undertakes no obligation to update these forward-looking statements in the event that management's beliefs, estimates or opinions, or other factors, should change.
To view the source version of this press release, please visit https://www.newsfilecorp.com/release/170512