Junior Miner Explores New Copper-Silver System in Peru
The opportunities surrounding a potential district-scale prospect are outlined by Hannan Metals CEO Michael Hudson in conversation with Maurice Jackson of Proven and Probable.
Maurice Jackson: Today we will introduce an early-stage exploration company focused on identifying district-scale high-grade copper and silver systems in Peru. Joining us for our conversation is Michael Hudson, the CEO of Hannan Metals Ltd. (HAN:TSX.V; HANNF:OTCPK).
We're glad to speak with you today to discuss the value proposition before us. Before we delve into company specifics, Mr. Hudson, please acquaint us with Hannan Metals, and share the opportunity the company presents to the market.
Michael Hudson: Hannan Metals Ltd. is a TSX.V-listed company exploring for copper and silver in Peru. The company is headed by people who have extensive experience within the mining industry, and specifically in Peru. We are exploring in a completely new district in the San Martin area of northeastern Peru. The project encompasses a newly identified, 120-kilometer (120 km) long, basin-scale, high-grade, sedimentary-hosted copper-silver system. This is a new deposit style for Peru, however it is the second-most prolific producer of copper, as a style, in the world, after porphyries. Geologically, the system shares similarities with sedimentary copper-silver deposits in the African copper belt. With a first-mover advantage, we recognized the exceptional potential for large copper-silver deposits during late 2018, and since then have aggressively staked 521 square kilometers of prospective geology.
Maurice Jackson: Let's go to Peru and visit the San Martin. Where and how did Hannan Metals obtain the data that led to the acquisition of San Martin?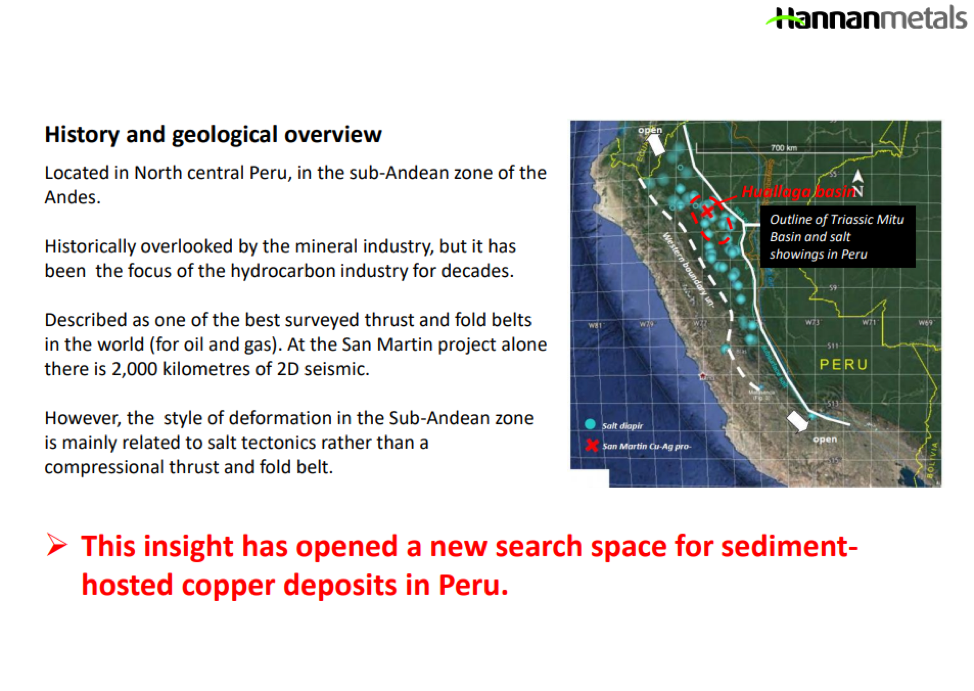 Michael Hudson: We have a 25-year history of exploring and acquiring exploration data in Peru. Based on some information from our datasets, we commenced reconnaissance exploration and found a significant amount of high-grade copper over a large area, and started staking. We put in our first claims in September 2018, and granting of these mining concessions started at the end of 2019. We are putting in a significant amount of effort to ensure that we meet and engage all relevant stakeholders, from local communities to regional and provincial authorities. Generally, the local people have been very welcoming. We are talking to people, listening to concerns, educating as we move forward, and building trust.
Maurice Jackson: Is the San Martin project already fully permitted?
Michael Hudson: We have about 40% of our mining concessions granted to date, with more continually being granted on a monthly basis. We are not at a drilling stage yet, with work over the first half of 2020 aimed at regional reconnaissance to [do] detailed mapping of mineralized horizons over specific prospect areas. Our aim is to balance project and social governance. We will try and keep the permitting process as simple as possible by keeping target areas small and engaging with the community to educate them and be transparent throughout the entire process. We are taking our time to define the right target areas and engage with the relevant communities.
Maurice Jackson: Can you elaborate on the infrastructure and the logistics surrounding San Martin?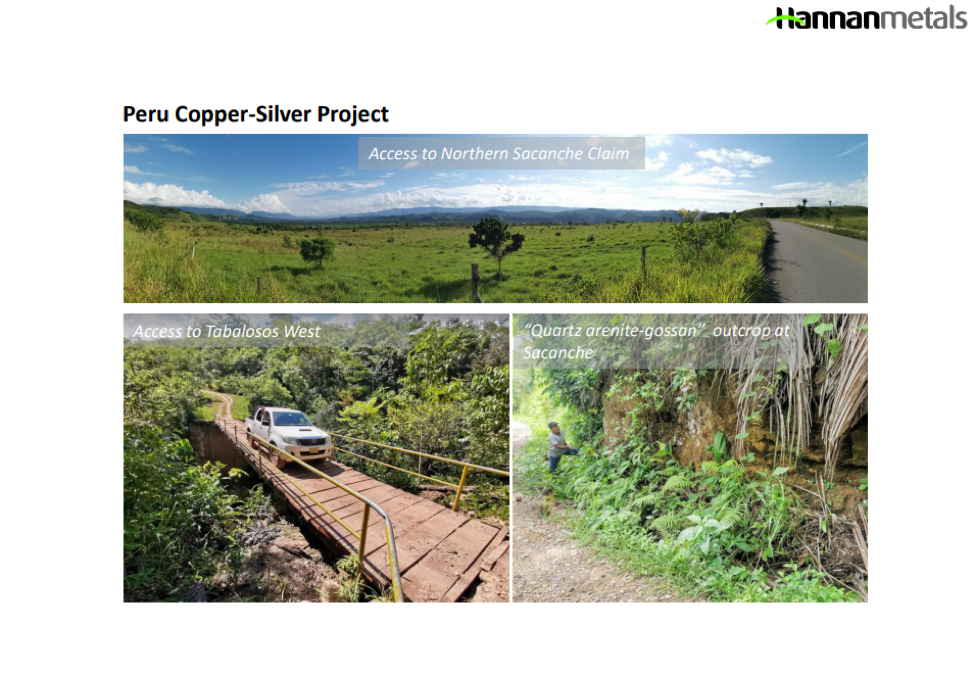 Michael Hudson: The San Martin project is located about west and south of Tarapoto. There are multiple daily flights into this city from Lima. Project access is excellent via a proximal paved highway and, broadly, no part of the project is more than two hours' drive from Tarapoto. This infrastructure is, of course, relatively new for Peru, and makes this project so much easier than if we were tackling it, say, 20 years ago.
Maurice Jackson: Well, let's talk about a clever way that Hannan Metals has de-risked their project. Hannan has shifted the paradigm on exploration by implementing a concept known as new search spaces. And the intellectual capital derived from this concept has positioned Hannan Metals in a first-mover competitive advantage among your peers. Sir, please introduce the concept of new search spaces, and how does it fit into the narrative of defining the San Martin as a greenfields or a brownfields exploration plain?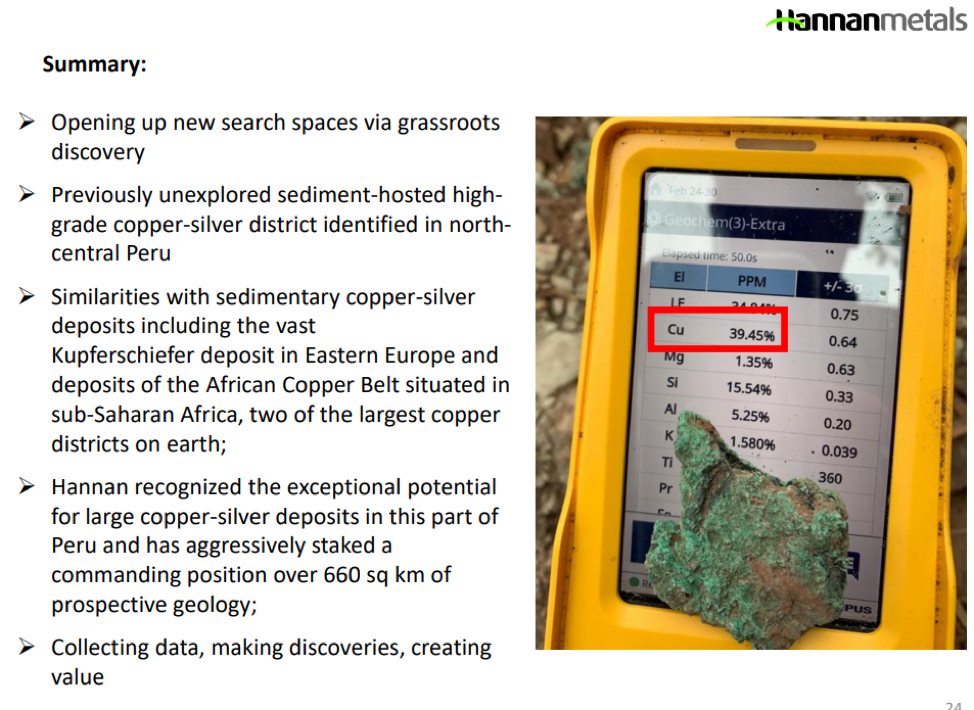 Michael Hudson: Well, firstly, I didn't coin the phrase. It comes from a very smart geologist called Jon Hronsky. And really, this is a concept that's been taken a little further than just talking about grassroots exploration or greenfields. It's basically identifying an area of prospectivity for whatever you may be looking for. And it may be in an old or a very mature terrain where there's lots of data, but you come up with a new thesis. And then you search for that new thesis, whether it's going underground for high-grade systems underneath old oxide gold, for example, or you go into new areas completely and say, "Well, the San Martin area has the same geological characteristics for many, many reasons as some of those super deposits that form in Africa or in Poland and northern Germany." And then you collect the data that opens up that search space, I suppose.
It really is the true way to make discovery. It's very hard to go back to old ideas in old camps and do the same again. And really those easy pickings have been made in our business. So you really have to think a little broadly from the initial start of your exploration. It's looking into new areas with new theses or ideas or concepts, and then collecting the data to support or refute those. That's the exploration or scientific process, but it really means that you're thinking about it much earlier on, from a perspective of trying to find something large and new.
Maurice Jackson: Mr. Hudson, to truly appreciate the value proposition of the San Martin, please provide us with a mental picture and tell us about this stratigraphy and the genetic model.
Click here to continue reading...
Click here to see more from Hannan Metals Ltd.