Millrock Resources: Drills to Start Turning at District-Scale Alaska Property
Millrock Resources CEO Gregory Beischer speaks with Maurice Jackson of Proven and Probable about his company's drill program in the shadow of the Pogo gold mine.
Maurice Jackson: Welcome to Proven and Probable. Joining us for a conversation is Gregory Beischer of Millrock Resources Inc. (MRO:TSX.V; MLRKF:OTCQB).
Gregory for someone new to Millrock Resources, please introduce the opportunity the company presents to the market and in particular, the 64North project, which has market participants anxiously awaiting news results.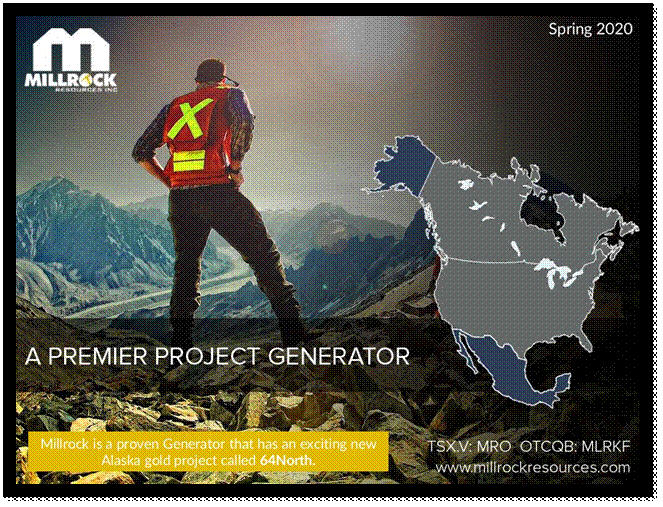 Gregory Beischer: Millrock is a team of early-stage exploration geologists. We want to make a discovery of a giant ore deposit and sell it to a major mining company, that's our goal, but we take a different approach than a lot of early-stage explorers. It's a risky business. So we will invest our capital to generate projects, come up with a new idea, acquire the mineral rights, but before any really big dollars are spent for exploratory drilling, we'll bring in a partner. And that way we can operate five or six projects at any one time, increasing our odds of making the discovery that will drive our share price way up, but also it's a sustainable company, one that has a core group that's with us year after year doing excellent scientific work. And we know that's one of the key ingredients to successful mineral exploration and discoveries.
Maurice Jackson: Sticking with the 64North project, can you provide us with an update on drilling?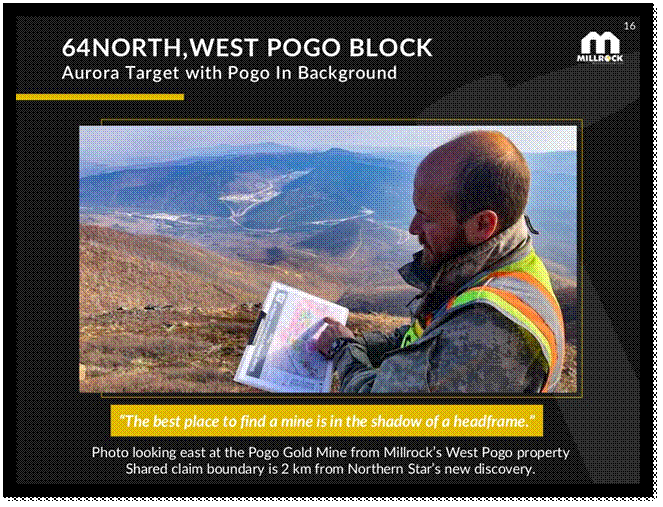 Gregory Beischer: These are exciting times for Millrock right now. We've developed a huge district-scale project looking for another gold deposit in the vicinity of the Pogo gold mine. Pogo was discovered in 1994–1995. It's been producing excellent gold grades and ounces over the past decade. Millrock is confident that we may find another mine just like it. And I believe the area around Pogo has the potential to host multiple mines in the future. I think the Goodpaster Mining District in which our 64North project is located will have in the end multiple mines that will produce tens of millions of ounces of gold, comparable to something like Red Lake in Ontario, or Val-d'Or in Quebec, or Kalgoorlie in Western Australia. Millrock has the dominant land position by far in the district. We had a unique opportunity a year ago where after eight bad years in the mining cycle, the ground had all come open.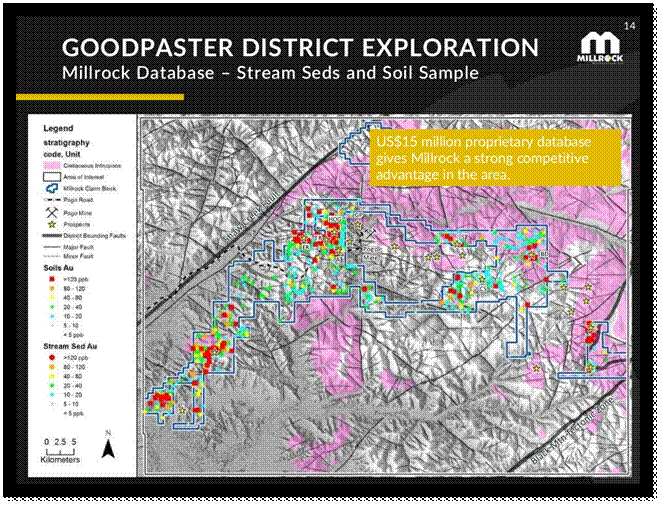 And so we were able to stake the whole district. And there was an aggressive move on our part, but one that's paid off. We have an Australian junior company funding the work. We're executing that work in collaboration with their technical team. I am glad to convey that our geological crews are mobilizing to the field today. And the drill is meant to have arrived on site today. And by the end of the week, we should be drilling again at the Aurora target on the 64North project, just to the immediate west of the Pogo gold mine, so exciting times. I know you and other shareholders have been following this particular project quite closely. And it's a relief now to be exploring again, after being slightly derailed by this pandemic.
Maurice Jackson: Besides drilling, what other work is being conducted to delineate the 64North project to increase the chances for success?
Gregory Beischer: Millrock is conducting work on multiple fronts. It's an enormous attractive claim, we've done a lot of studies, desktop studies looking at our extensive database for the district generating new drill targets. We have this obvious, compelling target at Aurora west of Pogo, but there are lots of other places that are coming forward too. We're going to have a steady pipeline of drill-ready targets on this project for years to come. And so we've developed plans, exploration plans for each one of those prospects that will be executed later in the year, but also more particularly on the West Pogo, we're about to do two geophysical surveys, airborne geophysical surveys that will help our image below the surface of the Earth, map out the structures. And as you know, the deposits at the Pogo mine are relatively flat-lying.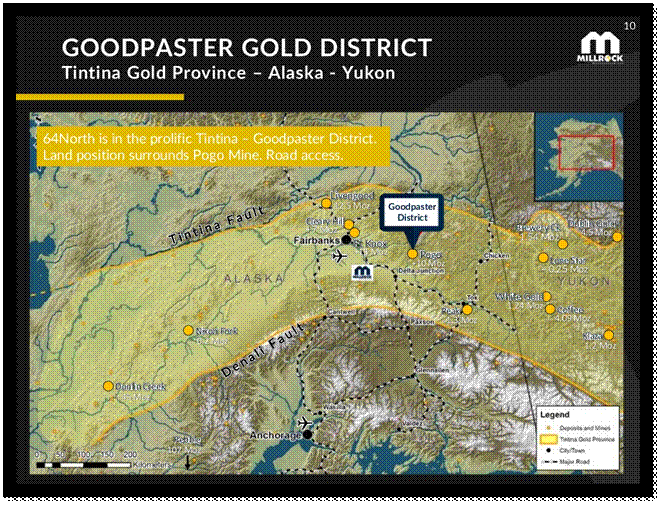 They dip gently, and so at about 25 or 30 degrees. As those dip off to the Northwest, they're going to come on to Millrock's ground. And these geophysical surveys will help confirm the existence of the structures, and to determine the depth to which we'll have to drill, to intersect them. And we would plan to do the geophysics, in early June, but we would plan then to drill those targets in the down-dip direction from the Goodpaster Deposit Pogo Mine later in the summer. The Aurora is being drilled now, geophysics happening now, but we should be drilling through the year on this project.
Maurice Jackson: Truly exciting times for Millrock Resources. Sir, what is the next unanswered question on the 64North project? When can we expect a response, and what will determine success?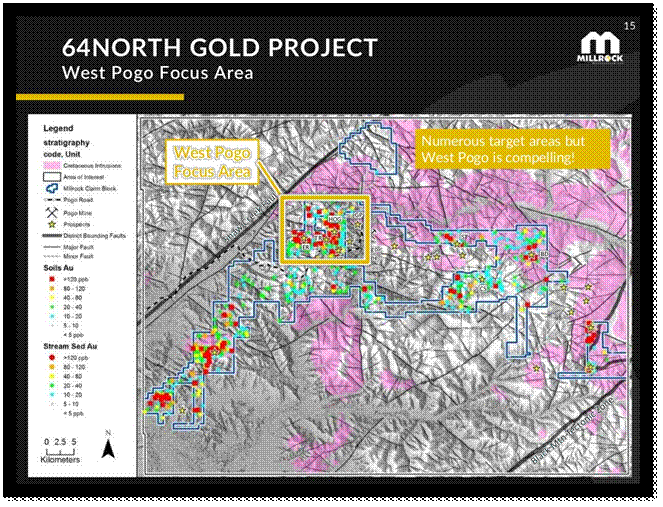 Gregory Beischer: The very first hole we drilled at 64North in March had a lot of great geological signs in it. We could see a lot of hydrothermal fluids had moved through the rocks, mineralizing them with quartz veins and veinlets and sulfide minerals that are very typically associated with gold. Everything looked great, but surprisingly the gold values were pretty weak. But we know we're in the right area, and we're probably peripheral to a deposit by a short distance. And we know we've got the structures. We know we've got the right mineralization. We just need the gold. Millrock will be moving our drill northward. And I'm very hopeful that we'll intersect the same structures, but this time with lots of gold in them, and that'll be the next big test and measure of success for Millrock and its team.
So we're hoping to make in this drill program that we're currently executing a new gold deposit discovery. And if we do, I don't think Millrock's share price will be 22 cents much longer. It's been great to see some exploration companies having exploration success, and shareholders being rewarded at the same time as there are some good drill holes lately, and one particularly in Alaska that resulted in a tenfold share price increase. So we're hoping to repeat that kind of success.
Maurice Jackson: Well, in many regards you have, in nine months the stock prices almost tripled. What are the current stock price and the capital structure for Millrock Resources?
Click here to continue reading...
Click here to see more from Alaska Energy Metals