Miner Seeks to Advance Exploration on Alaskan Prospect
In this interview with Maurice Jackson of Proven and Probable, the president and CEO of a project generator working in the Goodpaster District of Alaska explains the rationale behind putting the company's stock on sale.
Maurice Jackson: Joining us today for a conversation is Gregory Beischer of Millrock Resources Inc. (MRO:TSX.V; MLRKF:OTCQX). Mr Beischer, welcome.
Gregory Beischer: Hi Maurice, always good to be here.
Maurice Jackson: Always a pleasure to have you on the program, sir. As a reminder for our audience, in our last interview, we addressed claim staking Millrock Resources was conducting in the Goodpaster District of Alaska, which is becoming one of the most highly contested mining districts in the world.
Mr. Beischer, before we delve into today's interview, please introduce us to Millrock Resources, a premiere project generator, and share the investment opportunity that the company presents to the market.
Gregory B.: We are a project generator/exploration company, so we develop early-stage exploration projects, but always, always find partners to share the natural risk that's in early-stage exploration. That way we're able to operate multiple projects at one time, and increase our chances of successfully finding an ore body that will greatly benefit Millrock shareholders.
The latest project that we've come up with is called the Goodpaster Project.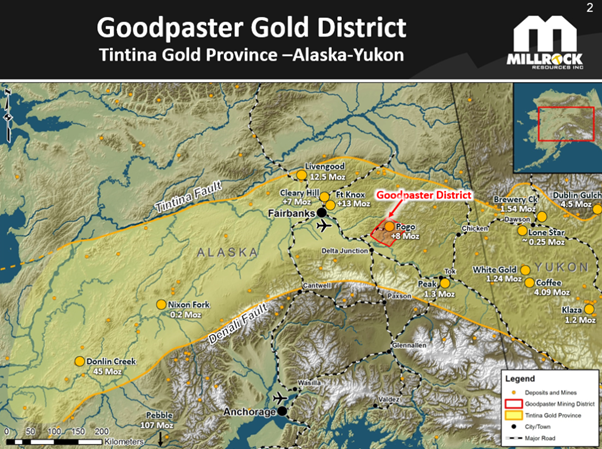 Maurice Jackson: We referenced the Goodpaster District of Alaska. Please provide us with some background on the district, and share with us where Millrock has been strategically positioning itself in the district.
Gregory B.: Maurice, you and I have had several conversations about the Goodpaster District of Alaska. Right now, the best known and single mine in the Goodpaster District is the Pogo Gold Mine, and it's a great mine. It produces several hundred thousand ounces of gold every year, and the concentration, or the grade of gold, is excellent. It's close to half an ounce of gold for every ton that's been mined, and the same going forward.
There's a new owner, Northern Star Resources Ltd. (NST:ASX), an Australian company that seems to be making great changes to improve the profitability of the mine and, most importantly from our standpoint, made new exploration discoveries, one of which seems to be very, very close to the mutual claim boundary between Northern Star and Millrock.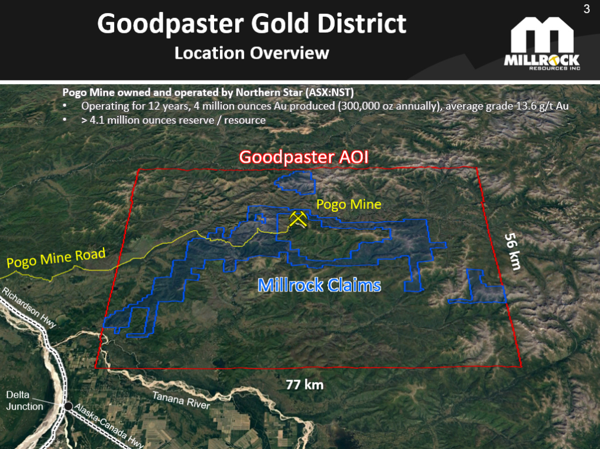 But we've staked a gigantic tract of claims, covering in excess of 660 square kilometers, over 255 square miles. So it's a major piece of land that we've acquired. I'll tell you, it's not just moose pasture. We have a great database of information that we purchased with some claimed blocks years ago, and that's paying off in spades, now.
Maurice Jackson: What are the latest developments from Millrock in the Goodpaster District?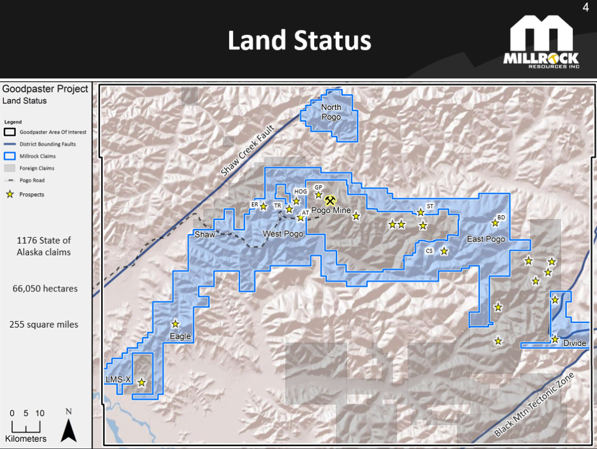 Gregory B.: Well, we've been advancing the project and talking to potential partners that would fund exploration. But at the same time, we're so keen on the West Pogo portion of this overall claim block—the part that's immediately to the west of the Pogo mine—that we believe we should advance that project, or that block of claims—that prospect—a little bit further before we make an agreement with another company. It could be that there's an ore body coming from the Northern Star ground right onto our claim block. We don't want to give this one away prematurely, or too early, or too low on price. So, to improve the value, we're going to put a little bit more of our own treasury in it. The thing is, we're going to have to raise money to do that work.
Maurice Jackson: Mr. Beischer, when the thesis makes sense and the price is low, that's called a sale. What would you like to tell shareholders regarding the opportunity that is before us right now?
Click here to continue reading...
Click here to see more from Alaska Energy Metals