Proximity to Working Mine Propels Exploration
In this interview with Maurice Jackson of Proven and Probable, Millrock Resources' CEO describes the company's prospects in Alaska's Goodpaster gold district and how a new joint venture improves the value proposition.
Maurice Jackson: Today we will focus on a premier project generator that is conducting quite an intriguing exploration program in the prolific Tintina Gold Province of Alaska. Joining us for a conversation is Gregory Beischer, the CEO of Millrock Resources Inc. (MRO:TSX.V; MLRKF:OTCQB).
Gregory, for someone new to Millrock Resources, please introduce the opportunity the company presents to the market.
Gregory Beischer: Millrock Resources is a project generator company. We're early-stage exploration geologists. Alaska is home base for us and this is the main area of exploration focus for us. We come up with new exploration ideas, concepts; we acquire mineral rights; and then we show the geologic potential to partners, mining companies or junior explorers that are interested in investing in our properties to earn an interest. The project generator model allows us to explore on multiple projects at one time, thereby increasing the chance of mineral deposit discovery—and the concurrent share price increase that comes along on those occasions when early-stage geologists make gold or other metallic mineral discoveries.
Maurice Jackson: Mr. Beischer, one of the tenets of Millrock Resources is increasing shareholder value through the discovery of world-class deposits. Millrock's property bank has generative projects throughout North America. Take us to Alaska, to this 64 North project, which is a joint venture with Resolution Minerals Ltd. (RML:ASX) of Australia, and introduce the value proposition before us.
Gregory Beischer: Resolution Minerals is earning into our 64 North Project in Alaska. They issued a press release last week that featured a really interesting map that I'd like to take the time to explain later in our interview, but before we do I would like to set the stage for readers and put everything in context about the project using Millrock's corporate presentation, which of course is available on our website. That'll set the stage so that I can explain the contents of this very interesting map in Resolution's press release.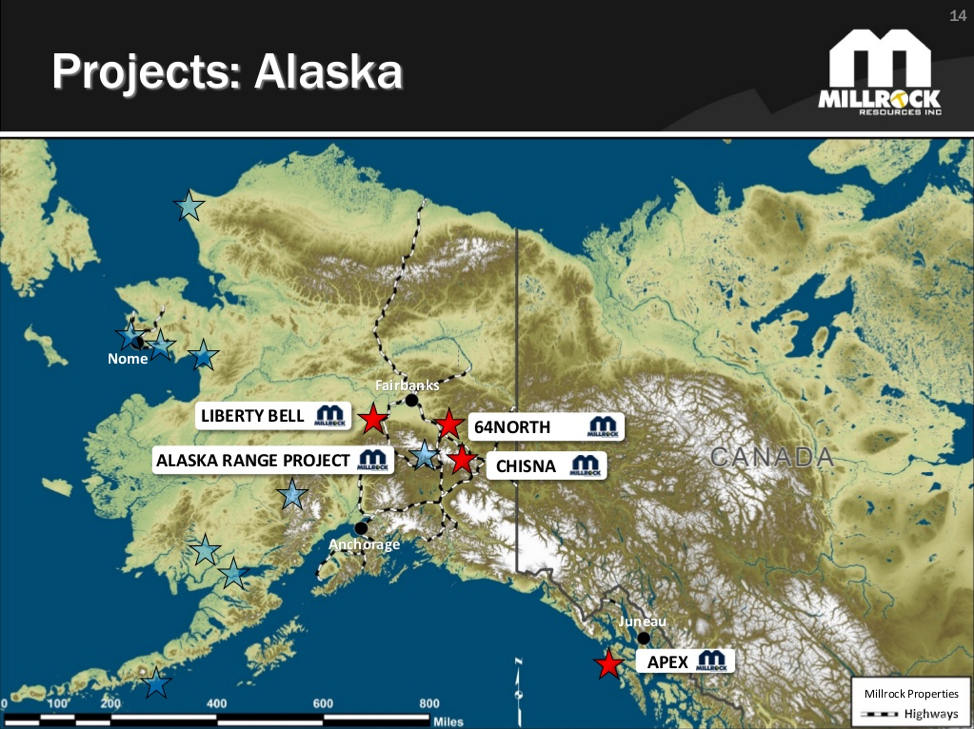 I'm based here in Anchorage. You can see a network of roads throughout the state. Alaska is a pretty big place, on the same par with the provinces of Ontario and Quebec, so it's a pretty big chunk of real estate, but the project I want to tell you about in particular is 64 North, located just to the southeast of Fairbanks.
Maurice Jackson: Mr. Beischer, please introduce us to the Tintina Gold Province.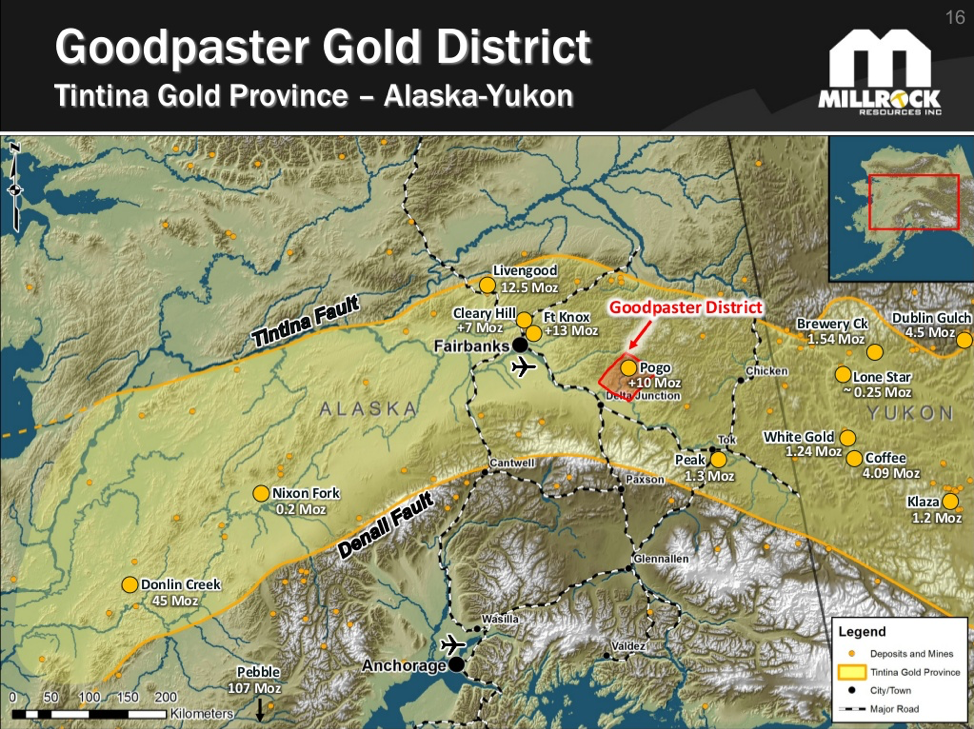 Gregory Beischer: Zooming for a closer look. Readers should note the yellow shaded arc are Cretaceous-aged rocks that have produced quite a few gold deposits. To the east is the Yukon-Alaska border. In the Yukon. . .quite a number of explorers have made discoveries and there is a new mine that has recently gone into production. The rocks on the Alaskan side of the border are quite prospective all the way to Fort Knox's mine, which is over 13 million ounces of gold now, and the Pogo Mine, which is central to our story, now 10 million ounces and growing every day. It's located in the Goodpaster mining district, which is the area of our 64 North project.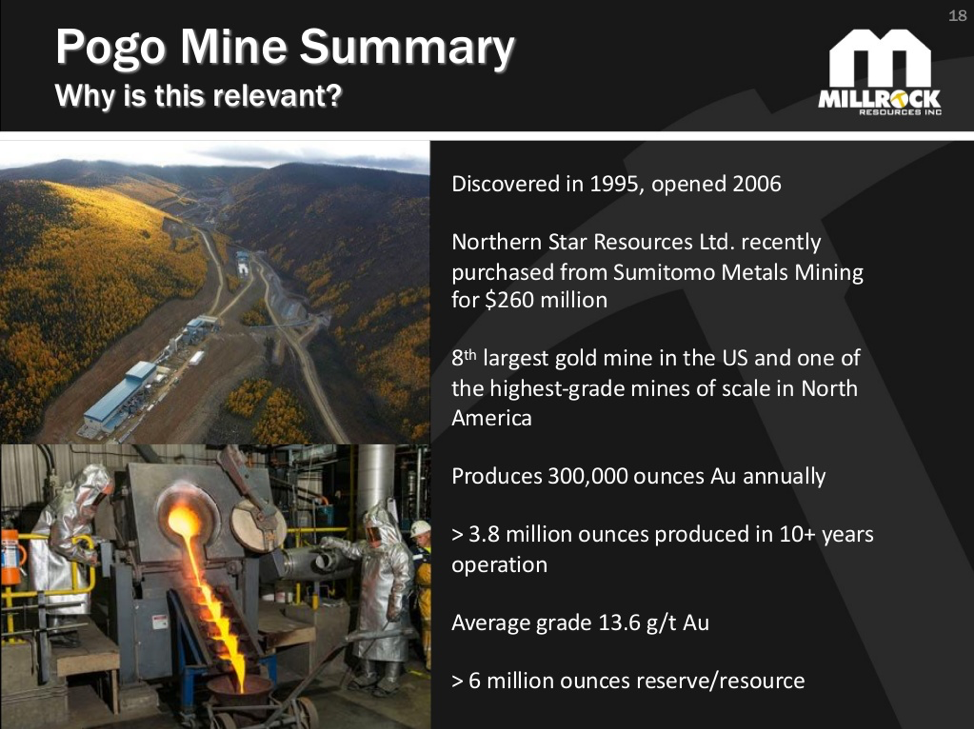 The Pogo is a really great mine. It is not quite high grade. It's an underground mine, and the new owner, Northern Star Resources Ltd. (NST:ASX), is doing a great job to maximize the value of the mine and they're making new discoveries. It's growing day by day.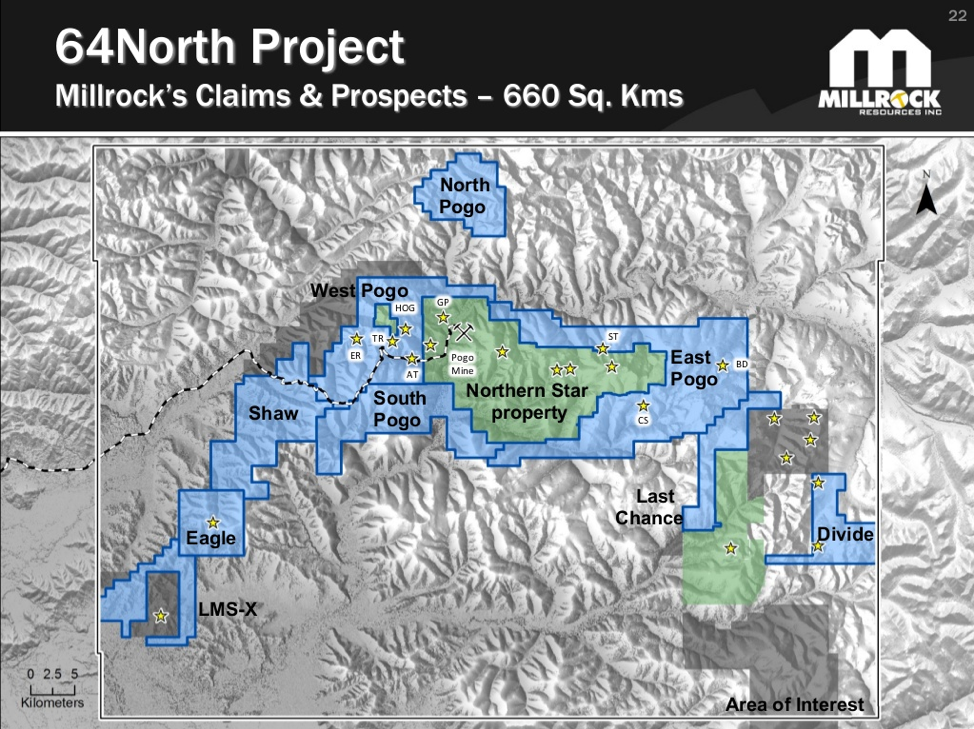 Looking even closer, on the black and white line, we can see the road coming into a Northern Star's Pogo mine. Their claims are shown in the green color, and the huge claim block that Millrock staked at this time last year is shown in blue, along with the stars indicating spots where we know there's signs of gold mineralization in the ground.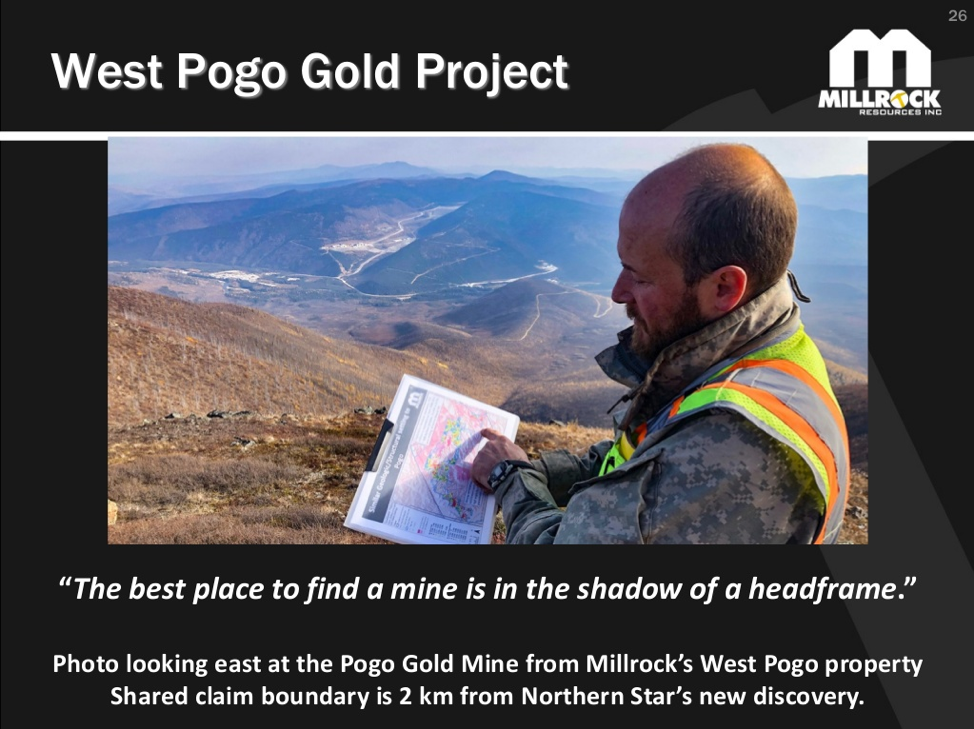 The 64 North is an enormous property, but we've developed a really compelling target, known as the Aurora Target, right beside the Pogo gold mine. In the background one can see the mine, mill complex, tailings facility, a lay down area and an air strip here, and we can see the Goodpaster River flowing by the mine.
We are standing on our ground, looking east back toward the mine and the mutual claim boundary between Millrock's claims and Northern Star's Pogo mine, which is in the foreground. There really is something [to] this old adage about finding a mine near another mine. It is a good place to work. We know the rocks are permissive to produce large gold deposits here. We know that the infrastructure is being developed, there's a road nearby, there's power nearby, and it's permittable. The Pogo line took several years of permitting, but clearly we can permit a mine here. This is a great spot! We're really excited now because the first drill program is imminent, and that's what Resolution's press release was all about.
Maurice Jackson: Mr. Beischer, in the background we see the Pogo mine, and you referenced. . .additional discoveries made by Northern Star Resources. Can we see that on the map here?
Click here to continue reading...
Click here to see more from Alaska Energy Metals